Condensing a QB file
Quickbooks files cannot be purged, but you can clear old transactions with the Condense Data Tool.
Click "File" in the main menu bar.
Select "Utilities" followed by "Condense Data."
Click to enable the "Transactions before a specific date" radio button in the Condense Data window.
Enter your preferred date in the "Remove transactions before" field.
Click the "Next" button and then click "Next again" to complete the procedure.
Create a summary journal entry for each month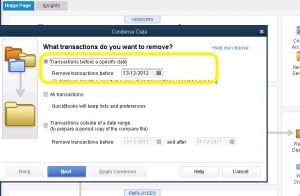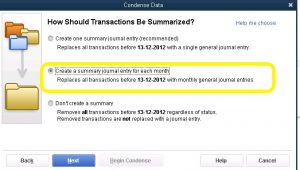 Select "Select None" for Removing the transactions, and similarly with not removing the lists (we will need those).
Then Begin Condense
Notes
Make sure you have a backup in case things go wrong.
If you condense you will not be able to access any of the history removed from the file.