Job / Classes / Categories
Do Job / Classes / Categories Convert?
Yes, Jobs, Classes and Categories come across in all conversions if there are less than 100. You can receive up to 500 Jobs / Classes / Categories under the Accelerate premium package. If there are more than 500 Jobs / Classes / Categories in the source data then the transactions will convert but without the Jobs / Classes / Categories, should this not meet your requirements we can create a
custom conversion
for you.
We convert into tracking categories, not 'Projects'
We do not convert payroll tracking
Xero does not recommend more than about 200 tracking categories due to potential reporting performance issues. They have a hard limit of 2450 tracking categories. Alternatively, they suggest using an add on to manage.

For MYOB files we use the total of Jobs (active, inactive and header Jobs) + Categories to calculate the total number.
If you have more than 500 active/inactive, we recommend that you delete the ones you no longer require, alternative if you need them all you can contact us for a custom conversion.

Our conversion software automatically checks whether Jobs / Categories / Classes have been used in the source file. If so, it creates a tracking category called Job or Category in Xero. Each job/class/category is created as an option so that they are accessible for future transactions.
How do Job / Classes / Categories Convert?

Descriptions are not brought across.
Any transaction line that we convert to Xero gets the corresponding tracking option (originally job or category) as seen in the source file. Where categories are used in MYOB, we will assign a category to each transaction line in that transaction, rather than the transaction itself as done in MYOB otherwise you will be unable to report accurately.

In Xero, a single transaction line cannot be split across multiple jobs therefore we will allocate it to one job only.
Categories and Options in Xero need to be unique so where there are multiple classes or jobs in the source file these are mapped to unique options within Xero.
Job Opening balances are not created in Xero, the tracking commences at the conversion date. You can add manual journals if you require opening balances in Xero.
Header jobs will have $0 balances as they are not linked to other Category options in Xero. To manage this moving forward you can set up Tracking categories with Category options.

How Do You Name the Options?
We use the Job/Category names from the source file.

Below is an example from MYOB showing how the Job Number and Job Name convert: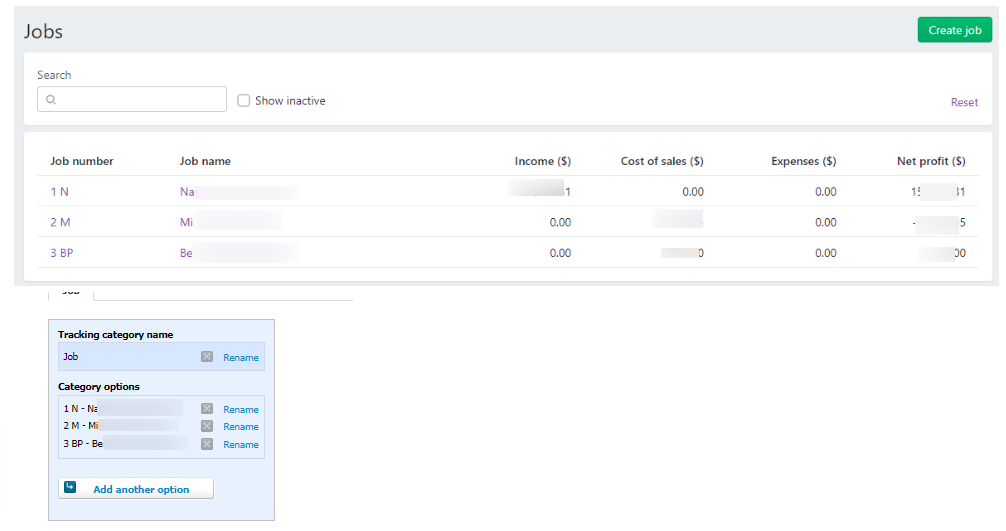 What if My Client Wants to Use Different Tracking in Xero?
This is really easy to achieve if you have more than 500 jobs/categories no tracking will convert and new tracking can be added post-conversion. If you have less than 500 you will need to delete the job/category tracking categories in the source file prior to uploading for conversion and then add new tracking post-conversion. If you choose to proceed with less than 500 jobs/categories and decide you want to use different tracking you can delete the tracking option if it is not linked to any transaction. If the tracking option is allocated to a transaction line deleting the tracking option will need to be removed from every transaction line it is allocated to prior to deletion can be completed.
How to Run Job Tracking Reports
As soon as you receive your Xero organisation you can run a Profit & Loss, Balance Sheet and Tracking Summary report by any job/category.



Xero Help Centre Information on Tracking

Related Articles

Deleting Jobs

Xero can only take a maximum of 500 jobs therefore in some instances you may need to reduce the number of jobs in the file to meet the package criteria. If you really need these jobs you could ask for a custom conversion. MYOB The total jobs includes ...

Customer Job tracking

During the conversion, we only migrate tracking associated with "Jobs" and not "Customers". Customer Job tracking is a function in Reckon and Quickbooks. When the tracking is set up against a 'customer' it is not linked to a 'job'. During the ...

Using Xero

Paid Bill or Invoice Showing an Amount Due You may find that an invoice/bill is showing as unpaid even though there should be $0 amount due. All of your reports are displaying the correct balances but when you view this particular invoice/bill it ...

Inventory Items

All items are created in Xero with their item codes, descriptions and purchase and sales details. What we Convert Item number and item name Base Sales Price Standard cost COGS and Inventory $ COGs and Inventory Accounts Item Description: Note: there ...

Running Payroll Reports Post Conversion

When setting up payroll in Xero, most employees will have opening balances so that payment summaries can be created out of Xero easily. The downside is that the reporting for the first quarter/ month after conversion does not easily give the correct ...