1. Click on the
File
menu >
Save Copy or Backup
2. Select
Backup copy
and then click the
Next
button
3. Click on the
Options
button to display the
Save Backup Copy:Options
screen
(Since you are already on the hosted platform, only the Local backup option is enabled.This is 'local' with respect to the hosted platform.)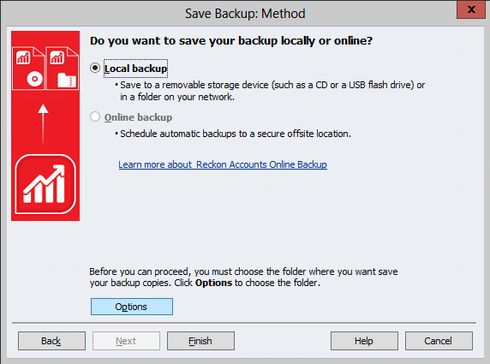 4. For Reckon Accounts Hosted, the
My Backup (B:)
drive is the default backup location
For your daily or regular backup procedure, we recommend that you select the "
Complete verification
" option and then click the
OK
button to return to the
Save Backup: Method
screen
*For those times when you are performing a
pre-verification backup
, we recommend that you select the
No verification (not recommended)
option and click the
OK
button
6. Once you are back in the
Save Backup: Method
screen, click on the
Finish
button to proceed with and finalise the backup process.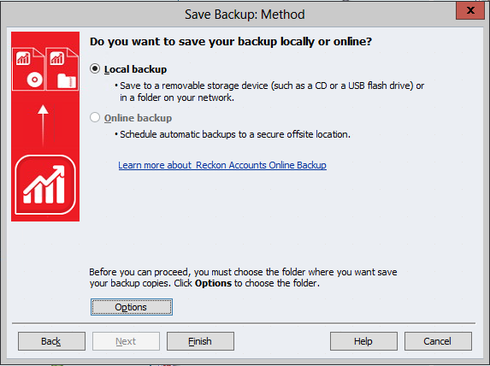 7. Once the backup has completed you will be prompted with a similar message prompt as shown below. Click the
OK
button
8. We recommend that you also regularly keep a secondary copy of the backup which is kept on you own local computer or external hard drive. You can copy that backup file from your
B:(Backup)
drive to your local computer hard drive or external hard drive storage device by following the steps in the article.
DATA RECOVERY: How to download a backup file (*.QBB) from Reckon Accounts Hosted to your local computer