Quickbooks Enterprise / desktop (US)
Quickbooks Preparation Checklist


NOTE: This conversion service is only for the USA version of Quickbooks into the USA version of Xero. If your company pays tax outside the USA then, unfortunately, you will need to consult another conversion supplier.

It is ESSENTIAL that you work through the recommended file preparations before uploading your file for conversion. This will ensure that you will have a cleaner conversion to Xero, and highlight if there are any outstanding steps that you will have to complete post-conversion.
If the essential preparation items are not complete you WILL have issues in Xero.

You will notice that some of the items on this list are optional. This is because you may be able to action these items more easily in Xero post-conversion.

What we can and cannot convert
QuickBooks desktop files that we cannot convert:

We CANNOT convert files that have used multi-currency. USD must be the only currency.




QuickBooks desktop for other territories - e.g. Australia or Asia as the taxes are handled differently in both QuickBooks and Xero.




Advanced inventory (inventory tracking) is not supported.




We do not convert payroll.




Billable Expenses do not convert as Xero does not have the functionality.




NOTE - Please remove passwords. It helps if you can provide the file with the password removed but this is not possible with 2018 versions. Please make sure that if you have changed the name of the admin user to something else you change it back to Admin.
There are also some transaction types that may lead to issues:

Manual journals to control accounts




Tracked Inventory




Multiple Accounts Receivable / Accounts Payable accounts



How to Back-Up my Quickbooks Desktop File

You only need to provide a backup file if you cannot upload the raw QBW file. To create your backup, follow the instructions in this
link
or the screenshots below:

NOTE: Please do not take an Accountants backup as these cannot be used for conversion.
1. Open the company file that you want to back up, once the company file is open go to
File > Back-up company
>
Create Local Backup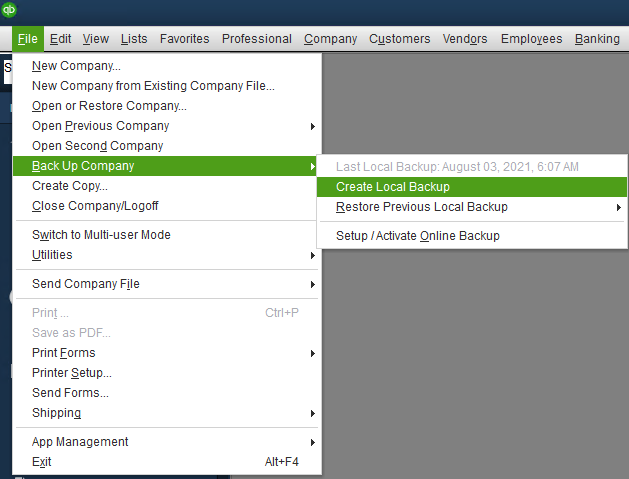 2
. Make sure Local Backup is select and then select
Next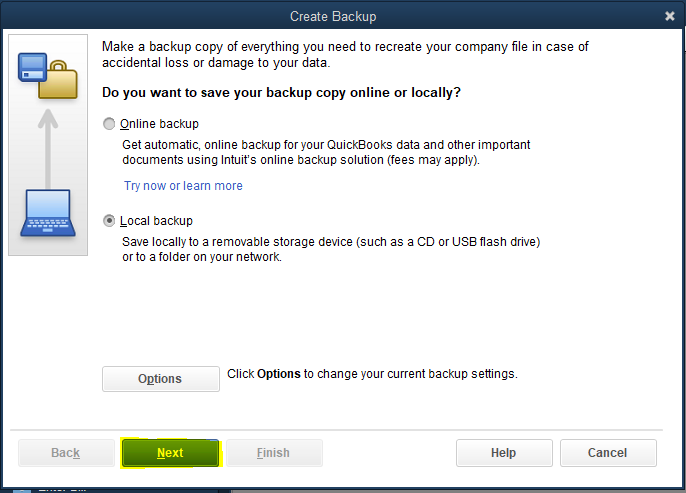 3. Select
Browse
to choose where to save your file once select
OK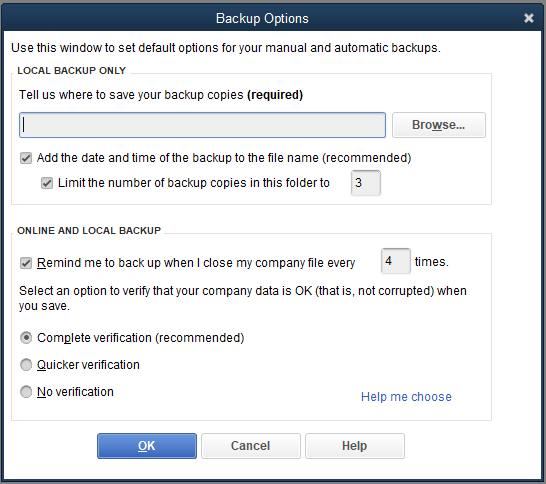 4. Select Use this Location - as this is a backup for instant upload and not safe keeping there is no issue with saving it on the same hard drive


5. Ensure Save it Now is selected and then select Next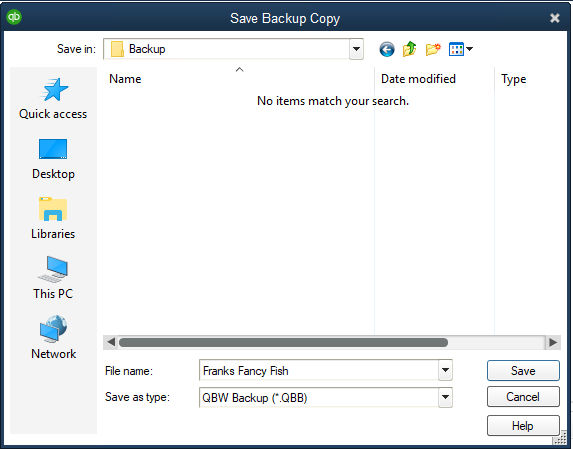 Your file is now ready to be uploaded via our
website
!

If you have taken a QBB extension backupand there is a password please add the password on the upload page.

Condensing a Quickbooks Desktop File

Quickbooks files cannot be purged, but you can clear old transactions with the Condense Data Tool.

Note -

Make sure you have a backup in case things go wrong.

If you condense you will not be able to access any of the history removed from the file.

Please note that if you are successful in getting the file size to less than 800MB it is still a very large file and could take longer than the usual 5 business days to complete. Also, there is no guarantee that we will be able to convert your file, once reduced.

Please see the steps to condense your file below:

Click "File" in the main menu bar.

Select "Utilities" followed by "Condense Data".

Click to enable the "Transactions before a specific date" radio button in the Condense Data window.

Enter your preferred date in the "Remove transactions before" field.

Click the "Next" button and then click "Next again" to complete the procedure.

Create a summary journal entry for each month

Select "Select None" for Removing the transactions, and similarly with not removing the lists (we will need those).

Begin Condense


Related Articles

Quickbooks Online (US)

For information on QBO conversions for Australia please go here. What is Converted? Contacts: All contacts convert, even archived contacts as they may have been used in transactions, you can archive them in Xero following conversion - more ...

QuickBooks Online (AU)

QBO Australia You will need to invite us to have access to QBO as part of the conversion process - see 'HOW to do the conversion with us' below. What is Converted? Contacts Chart of Accounts Inventory items Classes Open invoices & bills Closed ...

What File Types Can and Cannot be Converted?

MYOB Files must be under 800Mb and either .MYO or .MYOX if they are over 800Mb you can use our custom conversions. They must not have Multi-Currency or Multi-locations. Version of MYOB Australia New Zealand Account Right Y Y Account Right Live Y Y ...

Reckon (AU)

Reckon Preparation Checklist It is ESSENTIAL that you work through the information detailed on this page before uploading your file for conversion. This will ensure that you will have a cleaner conversion to Xero, and highlight if there are any ...

How to Bulk Upload Files

About the bullk upload option When you get to the file upload page you have the option to upload just one file, or many files at once. If you choose to bulk upload files then your contacts details and selected package will apply to all files ...